An important part of improving homeless services in Cincinnati is getting input directly from people who have experienced homelessness. We hold events which include what we call "Homeless Think Tanks." We hear directly from homeless people about how our homeless system works well, and how it can be improved.
Homeless Think Tanks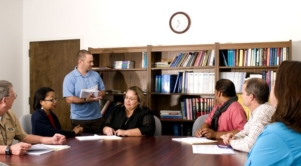 A Homeless Think Tank basically consists of three parts. Firstly, I do a walkthrough of the elements that make up the system (prevention, street outreach, shelter, supportive housing, etc.) and explain how those services are intended to move people out of homelessness and back to independence and self sufficiency. Secondly, I give those in attendance the chance to describe how the system has or has not met their needs.
Thirdly, I give attendees the opportunity to share ideas, to provide us with answers. I ask them:
"What would have helped you?"
"If there was was one thing, what one service or help, if it had been available to you at the right moment, would have kept you from becoming homeless?"
"What could we have done?"
"What might have helped you out of homelessness?"
The suggestions we receive serve to illuminate the sometimes simple, sometimes complex, realities of homelessness. My goal is to improve homeless services in Cincinnati, and it always has been. I have years of experience working face-to-face with homeless people As a former Street Outreach Worker. I've heard their needs; I've heard their goals. That experience is critical to overseeing our local homeless services system. But, homelessness is far from a static issue, with a myriad of constantly evolving factors putting people at risk of homelessness. This is why it is so important to host such focus groups, to make sure that we, as the coordinators of the homeless services system, listen to those we mean to serve.
Improving Homeless Services in Cincinnati
We've done two Homeless Think Tanks this month. In fact, the results are always insightful. It is overwhelming just how difficult it is to be homeless; how hard homeless people must work, day in and day out simply to exist. Being homeless is exhausting. It amazes me how willing people are to tell their story. They share their stories, even to a room full of strangers so it might help someone else, someone who might be homeless in the future. People generously share the most intimate details of their lives on the outside chance that doing so will help someone else. Most importantly, their intelligence amazes me. Their ability to figure out multiple complex systems and to give poignant input on that system is invaluable.
By engaging directly with the homeless community and listening to their feedback, Think Tanks help us improve our system. They improve coordination of homeless services in Cincinnati, and understand the varied, specific, and urgent needs of the people we serve.
By: Kevin Finn