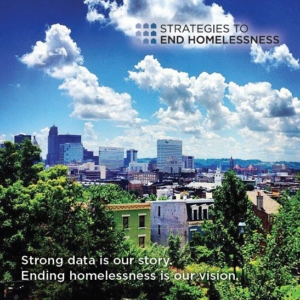 Why your gift matters
Who is homeless in Hamilton County? In 2016:
25% were under age 18
37% were under age 25
80% of homeless families were headed by a single mom, and
586 families with 1,759 children found themselves on the streets or in an emergency shelter
Solving homelessness starts with you.
Donate to strategies proven to work. 
Strategies to End Homelessness is a 501(c)(3) non-profit organization. Your donation is fully tax-deductible.
We also accept donations by check mailed to our address: Strategies to End Homelessness, 2368 Victory Parkway, Suite 600, Cincinnati, Ohio 45206. Please make checks payable to Strategies to End Homelessness.
To make a legacy gift, or a donation of stock or property, email sberger@end-homelessness.org.