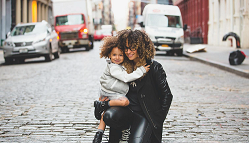 November is National Homeless Youth Awareness Month
Dear Friends,
We saw it happen again this summer, just like clockwork. A tell-tale sign of summer: a spike in demand for emergency shelter for families in Greater Cincinnati. Demand increases during the summer when staying in "doubled up" situations (with family and friends) is no longer sustainable. Once school is out, the increased stress of children being home all day often leads to doubled up families being told to get out, even if they have nowhere else to go.
In any season, being homeless is a confusing and stressful experience. The journey to stability begins with our Central Access Point (CAP) helpline. CAP is a single phone number anyone who is at risk of or experiencing homelessness can call to get help. Our CAP Intake Specialists screen and place individuals and families into the prevention or emergency shelter program best-suited to their pressing needs.
While we are proud that, via our CAP line, over 575 families accessed shelter last year, and another 260 accessed prevention services, over 60% of families that contacted CAP still did not receive assistance. We and our partners are continually seeking new resources and creative ways to stop families from falling through gaps, so that we can reduce and eventually end homelessness in Cincinnati.
As we move into a season of harvest, gratitude and giving, let's not forget those who are struggling. If you know anyone in need, please ask them to contact CAP at 513-381-SAFE (7233).
Thank you for your support in ending homelessness in our community.
Sincerely,
Kevin Finn,, President/CEO
MSW, LISW-S
Partner Spotlight: Lighthouse Youth and Family Services

Lighthouse meets the needs of homeless young adults; including emergency shelter, street outreach and a safe place to come off the streets and get basic necessities. At Lighthouse, they work with young people as soon as they arrive at their door, regardless of their reason for need.
With services throughout Greater Cincinnati, the mission of Lighthouse is to advance the dignity and well-being of children, youth, and families in need. Lighthouse is a nationally-recognized innovator helping families in crisis, homeless youth, and young adults become self-sufficient. We have been proud to call Lighthouse  a partner since our founding ten years ago.
Read more on their website: www.LYS.org.
Solving the Problem of Youth Homelessness, Here at Home
In Hamilton County, the reasons for youth homelessness are as diverse as the population of youth experiencing homelessness themselves. Contributing factors include everything from employment to education, from housing to transportation, and from health issues to legal issues. To address youth homelessness, we need to take into account their many challenges, including those who age out of our foster care system and populations such as pregnant and LGBT youth.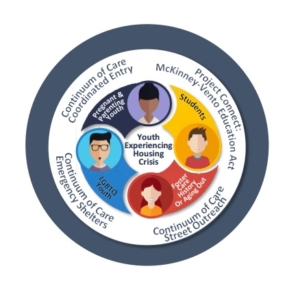 This year, Strategies to End Homelessness worked with Lighthouse to secure one the largest grants awarded to any community in the country, over $3.8 million, to be focused on ending youth homelessness by 2020. Along with community stakeholders, counselors,  social workers, and people who have experienced youth homelessness, a plan for how our community would like to use this funding has been submitted to the U.S. Department of housing and Urban Development, as a part of the Youth Homelessness Demonstration Program (YHDP).
The plan encompasses a holistic, community-driven effort to tackle youth homelessness head on. It is the result of an ambitious goal, founded on good data and key partnerships. Working with our more than 30 community partners to combine resources, the plan submitted maps out a strategy to better serve those who need it most in our community through affordable housing, greater access to needed services, and, above all, preventing youth homelessness from occurring in the first place.
Who is Homeless?*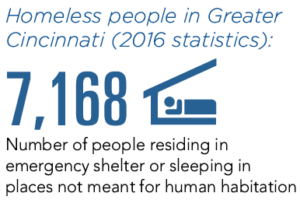 Homelessness is caused by the combined effects of lack of affordable housing, unemployment, limited access to resources and support, health and mental health challenges, raising children as a single parent, and experiences of violence. As the gap between housing costs and income continues to widen, more and more families are at risk of homelessness. Even a seemingly minor event can set in motion a chain of events that catapults a family or person towards homelessness.
Homelessness is a problem disproportionately impacting the young: 25% are under the age of 18; 37% are under the age of 25; and 55% are under the age of 35. 
*2016 Data represented
More than Numbers: How Data Informs Our Work
Strategies to End Homelessness was one of the first Continuums of Care (CoC) in the country to coordinate all of its shelters onto the same Homeless Management Information System (HMIS). Our HMIS data – a comprehensive history of local homelessness since 2004 – is a powerful tool in identifying the most effective strategies to end homelessness. Unlike the systems used by many other CoCs across the country, we have a 100% participation rate among homeless service providers in Cincinnati. As a result we have a unique ability to access detailed and comprehensive data on our homeless population. We utilize this data to meet our performance goals, to support community-wide planing, and to identify howbeit to direct resources to prevent and end homelessness. Our data teaches us a lot about homelessness in our community and we use it to guide system changes and track their impact.
Fall Calendar
November 
National Homeless Youth Awareness Month

November 4
Opioid Epidemic Community Forum
Kevin Finn, Speaker
2:00 PM – 4:00 PM
Cincinnati Public Library Main Branch
November 7:  Election Day- Please consider a vote to renew #4: Health and Hospital Levy to help the homeless (www.healthlevy.org)
November 11-19:  National Hunger and Homelessness Awareness Week
November 27:  #CyberMonday. Don't forget register with Amazon Smile!
November 28:  #GivingTuesday. Stay tuned as we participate in the largest day of individual giving all year.
December 13:  Join us at Rhinegeist for Charitable Suds; $1 from every pint goes directly to STEH
December 31:  New Year's Eve. Last day to donate for your 2017 Tax Deduction
Stay Connected!
We welcome the opportunity to speak to companies and groups about homelessness and our work to end it.
Contact us at info@end-homelessness.org