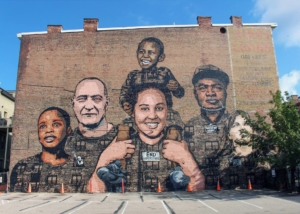 Strategies to End Homelessness had the district pleasure to work with ArtWorks Cincinnati on the Faces of Homelessness mural, their signature mural for 2017. Along with Over-The-Rhine Community Housing, Downtown Cincinnati, Inc., and other partners, ArtWorks Cincinnati commissioned international artists ICY + SOT.
The result is a 60-foot accurate snapshot of homelessness in Greater Cincinnati.
Creating Awareness, Empathy, and Community Engagement Through the Faces of Homelessness Mural
Installed by ArtWorks' Apprentices, the Faces of Homelessness mural features six real people from Greater Cincinnati who have experienced homelessness. This includes children, women, and men. Through the artists' rendering, tell a story unique to their lives and unique to our city. While it would be impossible to include all people who experience homelessness, this mural, located on Vine Street in Over-The-Rhine, succeeds in representing some of those statistically most affected by homelessness.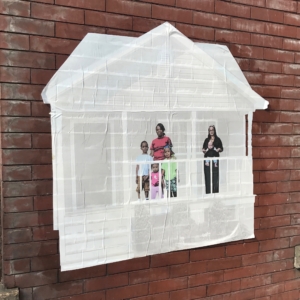 We are proud to partner with ArtWorks Cincinnati, Downtown Cincinnati, Inc. OTR Community Housing, and the City of Cincinnati to make this mural, and its accompanying satellite installations possible.
Satellite Images
In addition, to further promote empathy and inspire dialogue about homelessness, a series of installations appear downtown and Over-The-Rhine. Using data from Strategies to End Homelessness and designed by ICY + SOT,  these images are inspired by stories and photos of individuals served by agencies in our community working to prevent and end homelessness.
Satellite images address: family homelessness, veteran homelessness, doubling-up, education, domestic violence and LGBTQ homelessness.